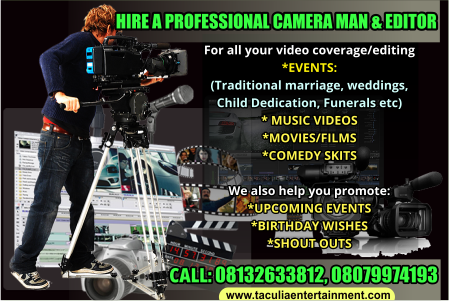 You can hire a professional cameraman & editor here at Taculia Entertainment for all your video coverage and editing jobs.
There are so many benefits you stand to gain if you hire us for your events today.
Benefits of hiring us.
We will promote and help to announce your event on our UPCOMING EVENTS section and optimize it so that your friends, families, and loved ones will easily learn about it via Google and other search engines.
We will shoot a pre-marriage film for you totally for free if your event is a traditional marriage or TM.
We will do a Live coverage of your events on our Facebook and YouTube accounts so that those who are unable to attend can watch what is going on at the moment.
After the event, we will write several articles that will carry your Photo Gallery and Events Trailer of the best moments in your event.
We will also give you free press coverage on the events category of our biggest blog Taculia 9Ja.
We will make millions of people learn about your event online across all our blogs and social media platforms.
If we shoot your music videos and movies/films, we will promote them across all our blogs and social media platforms for free.
We don't have to talk much since they say seeing is believing, so you can watch some of our productions on this post; as well as click on any of the links to watch more videos we have shot and edited so far.
Below are the basic fields we have expertise.
Events Coverage And Editing.
We will shoot and edit all your events ranging from traditional marriages, wedding ceremonies, child dedications, funerals, etc.
You can watch trailers of some of the events we have shot and edited so far.
Music Videos
We shoot and edit all kinds of music videos whether Gospel, circular or contemporary, etc.
You can watch some of the music videos we have shot so far below.
Movie/film Production.
Do you have a dream of producing a movie but have no DOP cum editor? or your former DOP or editor was unable to deliver to your expectations.
Just hire us today and let us give a professional touch to your movie/film production.
Watch trailers and episodes of some of the movies we have shot below.
Comedy Skits.
We are also professionals when it comes to shooting comedy skits whether with an iPhone or digital cam
And when it comes to the editing part, we can color grade and make it look as clean as possible.
Click on the link below to watch some of the comedy skits we have shot and edited so far.
We can also help you to promote your upcoming events.
Click on the link below to see the upcoming events we are promoting.
If you want to hire us, you can call us now at the numbers: 08038927536, 08132633812, 08079974193.
Or chat with us via the WhatsApp link below:
Latest Updates: