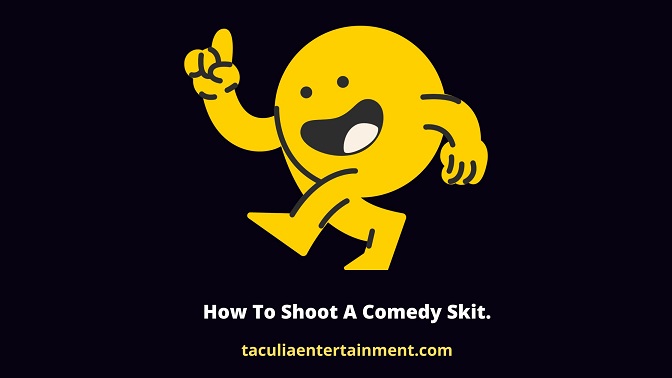 Comedy skit is fast becoming one of the lucrative jobs in Nigeria that needs no employer, and shooting a comedy skit is one of the challenges upcoming comedians are facing at the moment, for that reason, I will show you how to shoot a comedy skit in this article.
There is no denying the fact that social media has gradually become a part of our daily lives.
It is estimated that over 3.8 billion people across the world are signed up to or own an account on one or another social media platform example Facebook, Twitter, Instagram, etc.
Initially, the aim of social media platforms was to connect friends and family members wherever they are across the world, but today social media has become a place where people are seeking fun due to the availability of digital content created and uploaded by talented content creators.
As a matter of fact, Broadband search estimates that the average person spends roughly 2 hours a day on social media. And a good percentage of content keeping these kinds engaged are comedy skits.
But before we go into this article, let us look at the definition of a comedy skit.
What is a comedy skit?
Comedy skits are simply defined as funny short videos or films that usually last 2 to 6 minutes, and it is created by comedians to amuse and entertain their viewers.
Currently, comedy videos are getting more popular and engaging as new comedians are emerging with skits that keep viewers glued to their phones for the purpose of being amused and entertained.
Comedians like Broda Shaggi, Mr Macaroni, Mark Angel, Taaooma, Maraji, Josh2funny, and scores of skit makers on social media have really seized the opportunity to become very wealthy from creating comedy skits.
Things you will need to shoot a comedy skit.
It is very important to note that some comedy video skits are shot and edited using mobile applications such as TikTok and Vskits. These applications have the tendency of creating the basic quality of a comedy video.
However, if you are looking to create higher-quality comedy skit videos, you will need more than an application on your phone.
And below are some of the things you will need require to shoot a high-quality comedy skit:
Cast and crew
Script
Costume
Location
Video camera
Microphone
Lighting
Tripod stand.
Cast and crew.
The cast is going to depend on your script while the crew is going to be the DOP or cameraman, director, etc.
Script
Since it is going to take much time and energy to explain your script over and over again to your cast and crew, it is very important to have a storyline written in a form of a script. Ensure that your storyline is concise and easy for your cast and crew to read and interpret.
Costume
When you look at the current comedians trending on social media platforms, you will discover that they all have a style of dressing or simply a dress code. For instance, Broda Shaggi does not even wear a shirt and he likes to wear short nickers. Thus, you need to choose a costume that will make you stand out and easy to trend.
Location.
The location is where you are going to shoot the video. Make sure you settle for a place that is less busy and noisy to be able to capture the proper sound.
Video Camera
You need to have a very good video camera. A DSLR camera, for example, Canon 6D or 60D is going to be okay. And as we said earlier if you have a good phone, usually an iPhone, you can use it to shoot your comedy skits because most of popular comedians are using it.
Microphone
A microphone is very important when shooting a comedy skit because you must have a sound production that is clear. You can opt for a boom mic or lapel mic or even use an external audio recorder to capture the best quality sound.
Lighting
Sometimes your script will require you to shoot indoors or have a night scene. In this case, you need to use a good video light that will give you the perfect video lighting.
Tripod stand
If you attempt to shoot your video holding either your camera or phone, you are likely going to produce shaky videos. And the only way you can avoid this is by placing your video camera or phone on a tripod stand.
How to shoot a comedy skit.
Usually, a standard comedy skit is going to be not less than 10 minutes. But keep in mind that you are going to take a much longer time to shoot it.
Depending on your script, a standard comedy skit will take 2 to 3 days to shoot.
We are estimating this based on what Taooma said in a recent interview that she took 3 days to shoot her comedy videos.
You can choose to do one-take shots for your comedy skits or employ the basic camera angles and shots for your comedy skits.
Editing.
Once you are done capturing your comedy video clips, you will need to either join, cut, mix, or enhance the video in order to get the final master clip.
Editing is very important especially if you used different camera angles and shots.
Also, it is during video editing that you are going to introduce and mix video or sound effects as well as add texts to your comedy skits.
There are various software in the market that can help you get the job done properly, nevertheless, it is always adviseable to you use video editing software that has basic features such as;
Audio and video Noise reduction
Video stabilization
Chroma Key
Audio mixing
To save time, you can get a professional video editor to edit your video clips.
Conclusion
To create a standard comedy video skit can take time and resources, but I bet you that the end product is always worth it.
As a poopular comedy video skit creator on social media, you can charge a huge amount to promote a brand or product in your videos.
In the long run, a successful comedy skit will always lie in the content and cast. Being talented helps to act a role with all sense of humor, however, learning from others will also help you to develop the needed skills.
Good luck!
Latest updates: