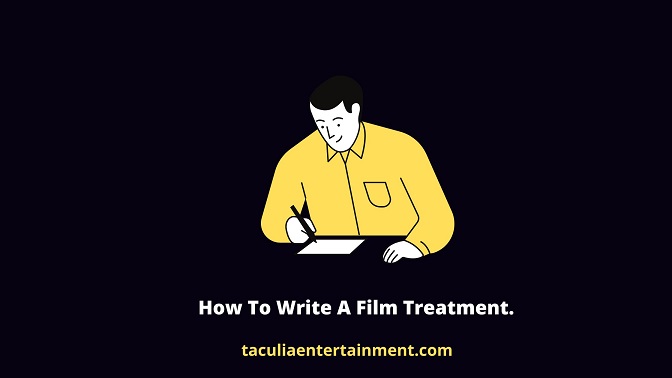 Writing a screenplay is much easier when you begin it with a treatment, that is why I am writing this article to show you how to write a film treatment.
But before you get started, you really need to understand what treatment is when it comes to writing a screenplay, before we move on to show you the parts contained in writing a treatment.
What is a film treatment?
A film treatment is simply a document that helps to create awareness for the reader about the story you are trying to convey in your screenplay.
Several writers use it as an outline that helps them to flesh out a story. While others use it as a means of sourcing funds and support for their film projects from producers, investors, and agents.
It is worth noting that since there are several ways of writing a treatment, there is no set format you can use, so all you need to do is to get acquainted with them and chose the one that works best for you.
Before you continue reading this article, you need to really figure out why you are writing a treatment. And below are the questions that will help you to do so:
Have you already written the script or you are trying to use the treatment as an outline?
Is the treatment a means of soliciting financing for your film project?
Are you trying to send out the treatment as a way of helping your actors or crew or people to have more information about your film project?
The answer you are going to give to any of the above questions will really determine how you are going to approach writing your treatment.
Is there a correct way to write a treatment?
Basically, when you study film treatments written by top screenwriters, you will discover that they all have their own unique ways and approaches to writing a film treatment, and for that reason, there is no singular "correct way" to write a film treatment.
However, there are some dos and donts for writing a film treatment, for example, every film treatment is always written in the present tense.
Also, a 12pt courier font is mostly recommended and accepted for writing a film treatment.
What's the difference between treatments and outlines?
A film treatment is basically a scene-by-scene breakdown of a movie or story which screenwriters use to pitch a movie idea before writing the full screenplay while an outline is an organized component of each and every scene and moment within a screenplay.
Actually, the difference between treatment and an outline in filmmaking depends on the intention and decision of the screenwriter.
Successful screenwriters like James Cameron can compose a treatment that has more than 40 pages. And they do this in order to help them develop their story idea and use both documents as a treatment and outline.
On the other hand, some screenwriters are of the belief that an outline is a document where a screenwriter identifies and orders their scenes, set pieces, plot points, and scene breaks. This goes to say that an outline is a document that contains all the scenes in a screenplay.
The elements of a film treatment.
Film treatment usually consists of the following parts:
One pager film treatment.
Longer film treatments.
Screenwriters name.
1. One-pager film treatment.
One-pager film treatment is probably the most common and most requested film treatment in the movie industry, and it is used to attract initial support and financing for a film project.
Even though you are writing a feature film, short story, web series, documentaries, TV show, comedy skits, etc. a one-pager film treatment is always recommended.
You can think of a one-pager film treatment as your one-page sales ad which is going to help you get money for your film project.
Typically, a one-pager film treatment will contain three essential elements which are:
Title
Logline
Synopsis.
1. Title.
Producers really like film titles that help to quickly inform the audience about the general idea of a film even without their having to read the logline.
Examples of such films are Aliens, Titanic, 12 years a slave, Nightmare on elm street, 1917, etc.
This kind of title is usually known as a "high concept" title.
2. Logline.
The logline is going to help you tell your story in one or two sentences, and you must keep it short and entertaining because it might be the only information your producer will ever get to see, so you must make it a jump off the page.
3. Synopsis.
The synopsis is that part of a film treatment that will allow you to take your story beyond the logline.
What you must ensure in this part is that your synopsis matches the tone or genre of your screenplay. But this doesn't mean you should write a whole storybook, rather, create a short story that is captivating.
For instance, if you are writing a comedy skit, your story should be hilarious and if it's a thriller, it must have a lot of suspense.
Like any other story, your synopsis must have a beginning, middle, and also ending.
Most especially, you need to concentrate on the ending part, because that's what makes the audience always go back to watching the story over again.
Moreover, producers often look for that part because they are all familiar with great script concepts that usually have a lousy ending.
For that reason, you must aim to entice them by ending your story with a bang that creates an optimal impact.
For a one-pager, ensure you reduce your synopsis to at least 3 paragraphs, one for each act of your story.
If you have space, you can manage to squeeze in a sentence or two to describe the setting for your film project as some screenwriters do.
If you are writing a documentary, make sure you write a synopsis that shows your story unfolding on the screen.
For a TV show, try to give the overall flavor of the show in a paragraph or two and bullet point a few sample episodes which include the title and logline for each. Some TV writers love to cheat and use the front and back of a page in order to fit enough information.
2. Longer film treatments.
Longer film treatments are always the place where the variability occurs. This type of film treatment has no set page length.
The correct length for this type of film treatment is what is going to help you clearly convey your ideas in order to achieve your targeted aim for writing the script.
Generally, the format for writing this type of film treatment varies a lot.
So many screenwriters use an effective format that includes their names, title, and synopsis.
In this case, you need to approach your synopsis as a very engaging and short version of your entire story, where you organically chip in important details of your entire film such as your settings and characters.
Some screenwriters categorize their synopsis with attractive headings which is similar to book chapters.
Other variables also include using set pieces and snippets of dialogue to establish the tone of your story.
As a rule of thumb, include your major plot points and avoid film lingo. Also don't mention camera shots or the writer's jargon, because it can pull the reader quickly out of your story.
Some screenwriters also follow a structure that is similar to a one-pager that starts with the title and logline. In doing that, they will include a "Characters" section that delves into the background and motivations of the leads.
If your film is a true-life story, make sure you find a place to share significant information about the real person your film is all about. Similarly, for a documentary, try to include a section titled "Subjects" that describes who you plan to interview and how they relate to your story.
Other element headings may include a "Settings" section which describes the world of your story.
This can be especially helpful if you have a sci-fi or fantasy world; historically based films also benefit from these descriptions.
If you're creating an in-depth treatment for a web series or TV show, it is very important to include a section titled "Episodes". Make sure you place this after a longer synopsis. Try to include several sample ideas for weekly installments by listing the title and a logline for each episode. After the synopsis, some writers also include "Theme" which describes just that.
3. Screenwriter's name.
At the end of your treatment, make sure you include your name and contact information.
This is the most personal information you must include in your treatment, but make sure you are not trying to seize the opportunity to brag about your prior successes at film festivals or the popularity of your YouTube videos.
Save that sales pitch for your query letter.
Latest updates: