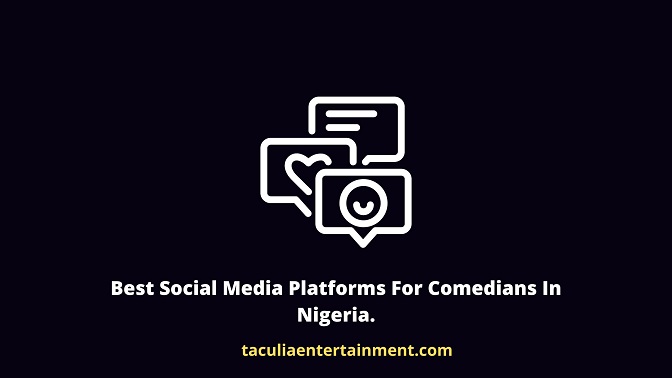 One of the most important factor in being successful online as a comedian is the social media platforms you are using to publish your comedy skits.
Social media can be so overwhelming because every now and then new ones are being created with features that are wired to beat down the ones that are already in existence, and this could make it so frustrating for a comedian who will be caught up in the web of making a choice.
But then, the truth of the matter is that you certainly don't have to aim at using all of these social media platforms, you must be able to sort out the ones that will be worth your effort.
It is worth noting that the features of every social media platforms varies extensively, for instance, TikTok is good for short videos while YouTube will allow you to post a video of more than 5 hours. To this end, you need to understand how all the social media platforms work when it comes to skit making, so you don't end up wasting your time on the one that will not kick-up your career as it should.
In this article therefore, I am going to reveal to you the best social media for comedians in Nigeria, and our main focus is going to be on how you can easily succeed as a comedian when using them.
So without much ado, let's get started with this article.
The best social media platforms for comedians in Nigeria.
The best social media platforms for comedians in Nigeria are: YouTube, Facebook Page, Instagram, Twitter, TikTok, Snapchat and WhatsApp. permit me therefore to show you how best you can use them as a comedian below.
1. YouTube.
YouTube is no doubt the biggest video hub on the internet and it's search engine is ranked as the second biggest in the world and this means that creating a comedy skit on A YouTube channel might give you the opportunity of popping up on queries that your keywords are wired around.
Another advantage that YouTube has against other social media platforms is that it will allow you to upload a video that tends to be longer. Although comedy skits are traditionally very short, 2-3 minutes preferably, there may come a time where your story line might warrant your comedy skit to run for more than 5 minutes in order to interpret your message better.
Or better still, you might even choose to toe the line of those comedians who make skits that last, even more than 10 minutes. A perfect example in Nigeria is Yawaskits whose comedies tends to beat the 10 minutes mark.
YouTube also has another feature on it's platform known as 'shorts" which allow you to create videos that is under 60 seconds, that is 1 minute. You can also use YouTube to go live and interact with your fans.
The biggest advantage of using YouTube is that it will help you to monetize your channel and start making so much money. All you need to do is to be consistent in creating videos on the platform so as to build a large audience and once you are able to meet their requirements of 1000 subscribers and 40000 watch hours within a year, you can join their AdSense program and start making money right away.
To get started on YouTube, you just need to sign up for a Gmail account and afterwards visit the YouTube platform to create a channel.
2. Facebook Page.
A Facebook Page is one of the best social media platforms for comedians in Nigeria because it'll allow you to upload unlimited videos as well as interact with your fans by going live.
Recently, Facebook launched their monetization program which allows content creators to make money when people engage with your content.
The one thing I like about Facebook is that it will allow you to run Facebook ads for as low as $1 a day and in so doing promote both your comedy skits and Facebook page.
To create a Facebook page, you need to sign up to a free Facebook account using either your email or phone number
3. Instagram.
Instagram is a great social media platform that has grown so fast ever since it was launched on 6th October, 2010.
The only problem with Instagram is that you can't incorporate links anywhere on the platform except in your account's bio. But one thing I like about the platform is that when you have the right kind of content and dip in certain hashtags, you will have the opportunity of attracting users who are not even following your account.
Instagram also has a short video feature known as "reels" which is also found on Facebook since both platforms are owned by Meta.
4. Twitter.
Even though Twitter is a kind of news platform, it can still be very valuable for comedians in Nigeria if they know how best to use it.
But most comedians seem to misunderstand that the real value of Twitter is not to use it as a broadcast medium or an always-on open mic, but rather to use it as a way to connect with people and showcase what you are doing on other platforms to them. This goes to say thatif you can use Twitter in a smart way, it will give you the ability to follow and interact with those who are using the platforms
Another important tool on Twitter is the hashtag which allows you to reach those who are not following your account. It is worth noting at this point that hashtags was even invented by the platform.
5. TikTok.
Even though TikTok will not allow you to create videos that are longer, it is still considered the best social media platform for comedians because it will easily help you to gain lots of followers which you can redirect to your other social media platforms where you have your comedy skits uploaded.
The secret to succeeding as a comedian in TikTok is to look out for what is trending and create a comic content on it so that TikTok can push it out to those who are currently following the trend and in so doing so many people are going to discover and follow you.
6. Snapchat.
Snapchat has a Stories feature which enables you to string together content in a way you cannot do on other platforms.
The only problem with this platform is that the content you post on it are allowed to stay for only 24 hours and for that reason it robs you of the opportunity to build a library of archived content and it also does not allow your fans to share your content.
Another problem is that you essentially has to know a person's username in order to find them and worst still is that you don't get to see the number of people who are actually following you.
So, at this point, Snapchat is not one of the best social media for comedians in Nigeria, but since it's growing so rapidly it is worth being on the list and keeping an eye on it as it evolves.
7. WhatsApp.
The main advantage of using WhatsApp as a comedian is that it will allow you to directly engage with your fans by way of chat, voice and video calls etc.
WhatsApp will also allow you to create various groups and use a community to connect people to all those groups. And in so doing you can always alert your fans of your new videos and drop links they can follow to watch on any of their preferred social media platforms.
Final thoughts.
You can read the two articles below and learn the best way to shoot your comedy skits.