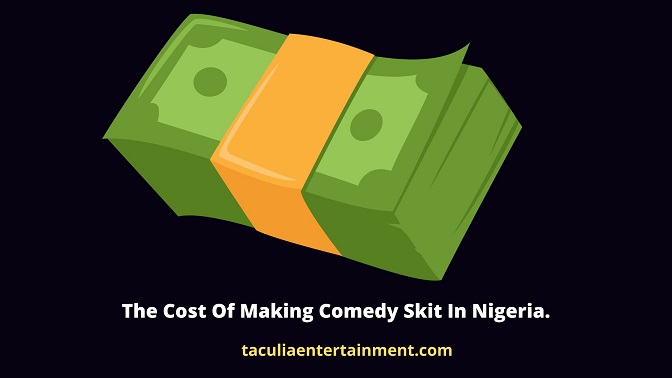 Currently, comedy skit is one of the most lucrative business in Nigeria since it gives you the opportunity of making money in US dollars which has a very high value against the Nigerian Naira.
However, it is worth mentioning that making comedy skit is Nigeria is going to come with a cost, this is because the quality of both your video and audio will matter a lot for your video to trend and help you get the basic monetization requirements on every social media platforms you are targeting.
In this article therefore, I am going to walk through the cost of making comedy skit in Nigeria, and I will try as much as possible to break this cost down in a way that will help you to easily understand the budget you must set aside to start skit making in Nigeria.
So without much ado, let us get started with this article.
The cost of making comedy skit in Nigeria.
The cost of making comedy skit in Nigeria will range from 170,000 (one hundred and seventy thousand Naira) to 250,000 (two hundred and fifty thousand) Naira on a one day script shooting depending on the casts and crew you are going to hire.
The table below breaks down the lists and cost of all you will require to make a comedy skit in Nigeria.
| Lists | Cost of making comedy skits in Nigeria. |
| --- | --- |
| Script writing and development. | 5,000 |
| Casts. | 25,000 |
| Crew.. | 15,000 |
| Costumes. | 20,000 |
| Equipment. | 40,000 |
| Location/Transportaion | 20,000 |
| Welfare. | 30,000 |
| Post-production | 15,000 |
| Total costs | 170,000 |
Typically, comedy skit scripts are usually very short because the finished project usually last about 1 to 10 minutes. But even though comedy skits are not that long, it often takes 1 to 3 days to achieve shooting the best and quality video clips.
A revealed by a popular comedy skit maker in Nigeria known as Taooma, she takes 2 to 3 days to finish shooting her comedy skits.
As a matter of fact, there are basically 3 stages you are going to pass through in order to make a comedy skit and they are:
Pre-production.
Production.
Post-production.
1. Pre-production stage.
The pre-production stage in comedy skit making is going to involve analyzing or accessing the finished script, hiring the casts and crew, sourcing for locations, and figuring out the equipment's you are going to use.
Below is an overview of how you are going to cut down expenses during the pre-production stage.
Casts: Trying to hire popular casts for your comedy skit will cause you to spend so much, even though it will help the audience to watch the video based on the fact that their favorite actor is being featured in it. So if you are working on a low budget, forget about popular faces for your comedy skit and look for upcoming actors who might even choose to work for free long as their faces begin to appear on the big screen.
Costumes: When you watch Nigerian comedy skits, you will realize that all the comedians are maintaining one costumes in all their comedy skits. And that is the same thing you need to do in your comedy skits in order to cut down expenses of hiring costumes every time you are going to make your comedy skit.
Locations: If your locations are far away from each other you will need to get a location vehicle that will covey your casts and crew after you are done in a particular location. And from my personal experience, I also realize that we tend to spend so much time during the movement from one location to another. So to avoid additional expenses in this regard, always ensure your locations are not far away from each pother, or if it is possible use different rooms, corners etc. in the same location to achieve your scenes.
Equipment's: In this digital era, many comedy skit makers in Nigeria are using iPhone to shoot their comedy skits. But then, iPhones are very expensive, unless you already have one then you can use it, but if not find a cinematographer who will not charge you much to hire a camera and tripod stand to shoot the video for you. Another area you should focus on is the audio quality. In this regard you can use a lapel mic if you are shooting with iPhone or a boom mic if you are shooting with a camera.
Crew: Comedy skits do not require much crew, once you have your cinematographer and someone to hold the boom mic and lighting you are good to go. You can however hire a Production manager who will assist in getting everything in place to make the shooting a bit faster.
2. Production stage.
The production stage is actually when the shooting and recording is going to happen, this means you will have all your casts, crew and equipment's in the location.
This is actually the stage where you will have to ensure you have all the shots you will need in the post-production stage. My own way of ensuring I don't mess up in the post-production stage is to take multiple shots angles in every scene.
Making a comedy skit can be extremely rewarding,, but it can also be a very tiring, stressful, and potentially chaotic experience. As the owner of the production, you have to ensure you have everything in place that your cast and crew will need in order to deliver their best performance.
3. Post-production stage.
The post production stage is where you will join the video clips and add the needed effects and caption that will interpret the story as you have it on the script.
If you are shooting with an iPhone, you can use video editing app like CapCut to do everything, but if you are shooting with a camera then you will have to transfer the clips to a computer or laptop and use a video editor like Adobe Premiere Pro to make the editing possible.
You can also get a professional video editor that will charge what you can afford to finish up the editing process for you in a professional way.
Once you are done with your comedy skit editing, the next thing you have to do is upload and give it some publicity, below is an article that can help you to learn more: