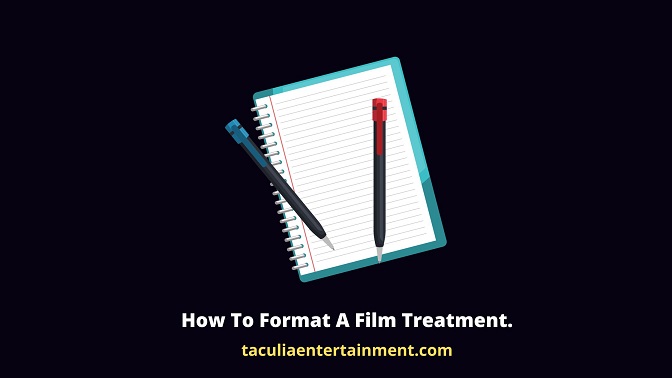 A film treatment is usually a few pages summary that breaks down what an entire movie script or story is all about.
Now writing a film treatment will solely depend on the intention or aim of the script writer because all movie writers use film treatment in diverse ways.
Some of them use film treatment to make it easier for them to figure out scenes when they or those they employ to write their screenplays are writing the whole screenplay, while others use it as a means of pitching or to enable their potential buyers understand their script.
But whatever your film treatment intention would be as a script writer, you need to follow a specific format when you settle down to write it.
This is because I have discovered that sticking to film treatment format usually helps me finish my screenplay within a few days since it enables me to understand my whole story even before I settle down to write the screenplay.
Therefore, I am going to write this article to enable you learn about the 8 formats of film treatment you should adopt and use as a script writer.
So without much ado, let's get into it.
Film treatment format.
A film treatment should be written in the following format:
Title.
Form and genre.
Logline.
Plot summary.
Characters description.
Acts structure.
The resolution.
Additional information.
1. Title.
Every film treatment needs to have a title, and getting the best way of getting a title for your movie is ensuring it aligns with what your whole story is all about.
For example, if your movie is about Sister Mary abandoning the convent to get married to the man who took her virginity and in the end of it all, he abandons her with their 3 year old baby to run away with a younger lady who is also three months pregnant for him.
You can simply title it "The Runaway Reverend Sister Mary ". This title will therefore make viewers, or even a potential script buyer to really want to know why Reverend Sister Mary had to run away from the convent.
Another tip for writing a film treatment title is to make sure it is original, that is to say such title is not in the marketplace already.
One of the ways to check if a movie title already exist is to run a search online, either by using a search engine Google or YouTube which is the highest video platform.
And if the title already exist, you can make adjustments but f it does not you can go ahead to use it but also keep in mind that even if the title exists and it is not online, you will have to make adjustments during the censoring of the movie when it will be discovered that such title is already existing with the movie censors board.
2. Form and genre.
It is also very important to state the genre of your movie in your film treatment, especially if it is a script you are planning to sell out.
Below is a list f movie genre's:
Drama.
Action
Horror.
Sci-fi.
Crime.
Epic.
Sports.
Romance.
Drama.
Documentary.
Musical.
Comedy.
Thriller.
Adventure.
Magical realism etc.
3. Logline.
A logline is simply a short sentence or two which helps to summarize your whole story.
For example, the logline of the story about how Reverend Sister Mary abandons the convent to get married to her first lover who betrays her in the end can go thus:
"Reverend Sister Mary abandons the convent to enter a marriage that does not work with her first lover".
Now while writing a logline, you must ensure you did not give full details about your story, instead write it in a way that will make the reader long to discover the reason why something had to happen or did not happen at all.
As you can see from the logline I gave above, the reader will long to know why Rev. Sister Mary's marriage with her first lover did not work out.
4. Plot summary.
The plot summary will give you the opportunity to expand your story logline and make revelations on things that will make your story play out the way it should.
You can seize the opportunity provided by your plot summary to establish the theme, tone and world of your story, while at the same time help the reader to understand the background that leads to the concept of your whole story. If it is a true life story, this is the best place to let your reader be aware of it.
5. Characters description.
Your story must definitely have a central character which we refer to as "the protagonist" as well as another person or figure who will act as a stumbling block to him or her, which we refer to as "the antagonist".
As a matter of fact, the concept of any movie should be about a character who is aiming to achieve or get something, and the people or things who are standing in his way of becoming successful.
Generally, every story usually aims to end with the main or central character becoming successful and in so doing have an happy ending, which we refer to as "a drama" in filmmaking.
But there are yet few stories which usually ends with the main character having a sad ending which we refer to as "a tragedy" in the movie world.
Thus, when trying to describe your characters, you must begin with knowing your central character and what he or she wants, and from there you will be able to understand the characters that will play vital roles to the central character working towards that aim as well as the character who will act as a stumbling block to him or her.
If you want to make your story more interesting, let your antagonist be someone who is either related to the protagonist in some way and working underground to bring him down while pretending to maintain a cordial or peaceful relationship with them.
This kind of story will make it easy for you to come up with a resolution which will be on the protagonist discovering that his best friend, brother, close acquaintance etc. is the enemy he has all along been looking for outside.
You can read this article and learn about How To Introduce Characters In Your Film Treatment.
6. Acts structure.
After setting up the world of your story and the characters who are going to inhabit that world, your next step is to delve into your story by revealing the most important scenes that will begin it, carry it forward to where you want it all to end.
This is the opportunity that will help you to list out the most important scenes your story cannot do without and summarize them in a simple sentence without having to go into details on the conversation that will transpire between the characters.
7. The resolution.
This is the final paragraph of your story which helps the reader or yourself to known how the story is going to end.
Is it going to be a happy ending (drama) or a sad one (tragedy).
It is worth noting that so many scriptwriters usually mess up at this point, that is why you will find a story which is so interesting from the beginning ending without being able to reveal how the characters pay the price for a certain lifestyle they led in the movie.
Whenever I write a film treatment, I always aim to ensure that each of my characters receive their dus or in other words pay the price for the things they did in the movie.
Like the movie I gave as an example in this article about Rev. Sister Mary, my aim in this story is to help the Reverend Sisters understand what might transpire if they abandon their vows of being single to pursue the marriage institution even if it is with someone they trust with their whole life.
Another lesson I also want people top learn from the story is that we should not embark on any profession, especially a religious one, because of the failure or disappointment we face at any point or cause of our lives.
Instead, we should always learn to try again because so many failures in life is the reason lots of people have been able to become successful when they try again.
In the full story, Bonny was the one who disvirgined Sister Mar, abd after that promised her an undying love But unfortunately, he won a scholarship to travel and study abroad and before he left promised Sister Mary thst he will come back for her.
But after 5 years of not hearing from Bonny, his cousin breaks the news of Bonny getting married to another woman in the states, and the frustration forced Sister Mary to join the convent where she becomes a reverend Sister after 4 years.
Immediately after taking her last religious vows as a Reverend Sister, Bonny returns from the state and to her surprise she realizes that he was never married, that his cousin was just lying to deceive her.
So after being reminded of their promise to love each other to death, Sister Mary decides to abandon the convent and get married to Bonny. But unfortunately, after 3 years of marriage Bonny began to womanize and ended up impregnating a younger girl.
His reason for doing so is that Mary is no longer sexually attractive to him as she used to be after giving birth to their only daughter.
And the resolution of the story is Bonny eloping with his young lover and abandoning Sister Mary to her fate.
8. Additional information.
Additional information will only be necessary if the aim of your film treatment is to enable you pitch your script to potential buyers in the hope of selling it.
Such information should include your name, business or company name (if any), phone number, email address and any other vital information you would like your potential buyers to know about you.
Good luck!