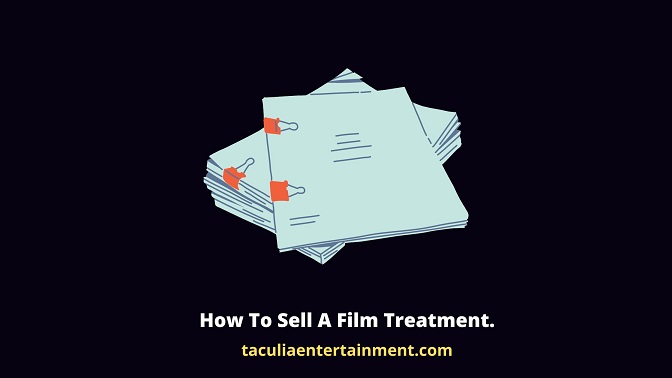 Every scriptwriter in the world can relate to the stress and time consumption that accompanies a screenplay, which usually involves using a certain format to write a 90 to 120 pages describing the acts, location, dialogue etc. of each and every characters involved in all the scenes.
Because of the aforementioned reason, scriptwriters have resorted to a film treatment which allows them to use 5 or more pages to describe their stories in a prose form with the aim of making sure their readers are able to understand what their whole story is all about.
Film treatment helps the most is when it comes to pitching and selling of scripts because potential script buyers will not have that much time to sit down and read a whole screenplay, but with a film treatment it will make it possible for them to easily gain an insight into what the movie is all about and from there decide whether they will buy it or not.
But then, before you attempt to sell a film treatment, it is very vital for you to understand the basic elements as well as the formats for writing a film treatment. And this is to ensure that your film treatment will look professional enough for a potential buyer to read it.
The most important aspect of a film treatment is that you should make it very brief, and since there is no hard rules to how many pages a film treatment must have, it is always advisable to reach out to a potential buyer to inquire about their preferred number of pages for a film treatment before you get down to write one.
You must also keep the language very simple while keeping in mind that the purpose of a film treatment is to help you as a scriptwriter describe the events that surround your story in a very visual manner or style in very few words.
Now once your film treatment is able to captivate the reader, the next thing he will be doing is to ask for the screenplay, and even if you've not yet written it, a negotiation will be made for someone who is going to write it, in case you wont be able to make it available in time.
I believe before you began searching for an article that will help you know how to sell a film treatment, you've already written your film treatment using the basic formats that makes it sellable in every sense of the word.
So let's get into this article where am going to teach you how to sell a film treatment.
How To Sell A Film Treatment.
Below are the steps you need to follow if you want to sell your film treatment:
Register your film treatment.
Determine the price you are going to sell it.
Source for potential buyers.
Write a cover letter for your film treatment.
Stay updated with those who have decided to buy your film treatment.
1. Register your film treatment.
As a scriptwriter, you need to understand that any material that is in public use does not have a valid or enforceable copyright, and for that reason anyone can reproduce or use it in any form or manner without the possibility of infringement.
And for that reason, you must have a court order which will stop any infringer from exploiting your copyright protected work.
You can download and read the pdf file below to understand how to register your film treatment and in so doing protect the copyright of your script.
2. Determine the price you are going to sell it.
Once potential script buyers have reviewed and liked your film treatment, the next thing they are going to inquire about is how much you are going to sell it.
And for this reason, you need to determine the price of your film treatment beforehand, and to ensure you are not giving them a too-high or too-low price, make sure you check out the price tag of film treatments from other script writers and use their range to determine your own pricing.
Please note that giving potential script buyers a too-high price might make them source for other scripts that are cheaper, and also giving them a too-low price might make them feel your story is not that professional.
3. Source for potential buyers.
Trying to find potential script buyers might seem a bit difficult and take much time if you are trying to do it on your own, so my best advice in this regard is to look for an agent who will help you sell your script or link up with popular actors who might connect you to a producer who is looking for a script to buy.
You can attend film premiers and festivals to find and build some possible connections that will increase your chances of selling your film treatment.
Another point to note about sourcing for potential script buyers is to submit your film treatment to more than one potential buyer.
4. Write a cover letter for your film treatment.
Another very important point to put into consideration is to write a cover letter for your film treatment.
Your cover letter must have your name, contact details and most importantly the price you are willing to sell your script. And it is this cover letter that will help a potential script buyer to quickly understand your intention behind the sale of your film treatment.
5. Stay updated with those who have decided to buy your film treatment.
Collecting your film treatment shows that the potential buyer have some form of interest in buyimg the film treatment from you and for that reason you have to stay updated to know what their final decision would be.
You can do this via phone calls, emails or any form of contact you used when you both connected for the first time.
Last thought.
Make sure you have some proof or evidence anyytime you sell a film treatment so you can add it to your portfolio and show other potential buyers that you are the owner of a successful movie that was shot and is already selling in the markket.
Good luck!