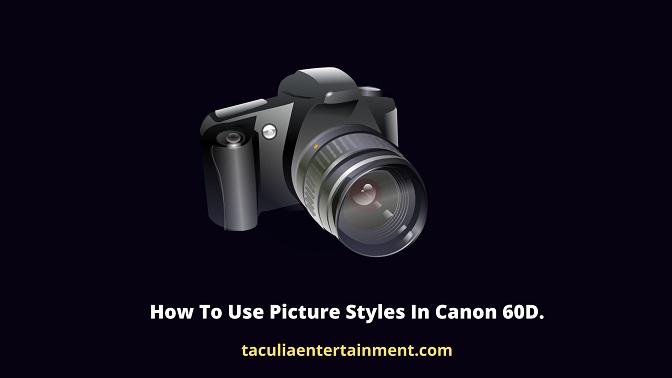 In this article, I am going to show you how to use picture styles in your Canon EOS 60D.
Canon EOS 60D is one of the photographer's choices when it comes to shooting photos or taking pictures.
But in order to achieve this, you must be very conversant with the picture style settings on Canon EOS 60D.
And that is why I am writing this article, and really hope you will read it to the end and learn.
How To Use Picture Styles In Canon 60D.
As I said earlier, if you want to take good pictures with your Canon EOS 60D, you must understand and know the various picture styles in that camera.
All Canon cameras have 6 predefined picture style settings which help to alter the color, saturation, contrast, and sharpness of the camera.
Below are the 6 picture style settings in a Canon EOS 60D and how to use them:
Standard.
Portrait.
Landscape.
Neutral.
Faithful.
Monochrome.
1. Standard.
Standard is a general purpose style and EOS 60D defaults settings.
It looks vivid, sharp, and crisp.
2. Portrait.
Portrait produces warmer skin tones along with crisp sharpening and contrast.
This style is automatically selected when the basic mode is active.
3. Landscape.
Landscape helps to boost sharpness and color saturation, most especially with green and blue subjects.
This style is automatically selected when the basic portrait mode is active.
4. Neutral.
This style produces more natural colors and lower contrast images.
The neutral is an ideal setting for video footage and also for still images of you expect to work on it later in post-production.
5. Faithful.
This picture style helps to match the color of the subject with shadow or daylight conditions.
This image often appears dull and subdued.
This style is often used if you decide to post-process the images on your computer.
6. Monochrome.
If you want to create a black and white or toned image, monochrome is the picture style you should use in your Canon EOS 60D camera.
For your picture style to work best, you must use the perfect white balance and below is am article that will help you learn about the best settings of a white balance on a canon 60D.
How to set a white balance on a canon 6D.
Latest Updates: