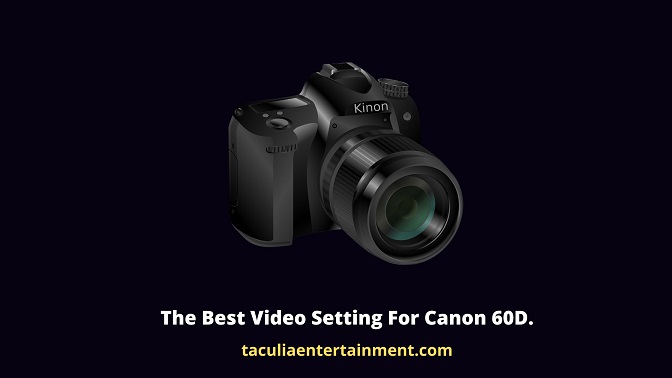 In this article, I am going to reveal to you the best video setting for Canon 60D.
Canon 60D is a DSLR camera that will enable you to shoot high-quality video clips, whether they are music videos, movies, short films, events etc.
But in order to achieve this aim, you must know the basic video settings or a canon 60D, and that's what I am going to show you in this article only if you will exercise the patience needed to read this article to the end.
So without any waste of time, let's get into it, can we?
What is the best video settings for canon 60D?
To get the best video settings for a canon 60D, you must ensure you set your camera to full frame HD of 1080p, that is 1920×1080, as well as use a movie record size of 24fps for normal video speed and 30fps for slow motions.
Below is a complete or the basic list with explanations of the best video settings you should use for canon 60D to achieve the best video quality.
Movie exposure.
Movie record size.
Shutter speed.
ISO.
ISO speed settings.
Aperture.
Picture profile.
Highlight tone priority.
Auto lighting optimizer
Focus.
White balance.
1. Movie exposure.
Your Canon 60D camera movie exposure should be set to manual.
The reason is so you can have total control over the look of your video footages, because setting up your canon 60D for the best video quality will help you to achieve clean and consistent video clips..
2. Movie record size.
The movie record size should be 24fps, and this is because of its standard in American film.
This 24fps movie record size helps to produce motion blur, smaller file size and it's what most professional DLSR videographers are using.
3. Shutter speed.
To get the best and high quality video footages, you have to follow the 180 degrees shutter rule which states that one must always double the number of frames they are shooting at.
This means that if you are using 30fps, then your shutter speed must be 60. And if you use 60 fps, your shutter speed must be 120.
If you are using 24fps, there is no shutter speed of 48 which is supposed to be double that.
And for that reason, you need to use the nearest number which is 50.
Thus, 50 is the shutter speed you must use if you shoot with 24 fps.
4. ISO.
If you are unable to get high quality video out of a 60D camera, it is probably because there is not enough light entering your camera. The 60D comes with an ISO range 100-6400, but the best practice postulates that anything over 400 will be too noisy to be useful.
ISO controls the camera sensors' sensitivity to light, which means that as you increase the ISO, thd imge will become brighter and this will make it introduce digital noise.
For this reason, you need to use the lowest ISO as possible. 160 to 100 is better.
5. ISO speed settings.
Your ISO speed settings should be set to 1/3 stop.
6. Aperture.
It is the aperture that determines the amount of light that enters the camera, and this makes it the boost control for exposure since it is clean light; i.e, light that is not enhanced digitally and so it is prone to noise.
Light comes into the lens depending on how wide of narrow the blades open inside the lens.
Thus, you have to set your aperture to allow for best exposure in order to achieve high quality image possible.
You can start by setting the aperture on a lens to the widest setting, therefore check the lens to see what is the lowest number written there, e.g 2.8.
If the lens lowest number is 2.8, then set it to that number.
7. Picture profile.
Picture profile is a menu that allows you to adjust and change the parameters that characterizes images in a digital camera.
The 4 basic parameters that forms a profile picture in a canon 60D are:
Sharpness.
Contrast.
Saturation.
Color tone.
Picture profile should be set to neutral if you want to color grade on post. But if not, you can experiment with the different picture profile to see the one that matches your needs.
8. Highlight tone priority.
Highlight Tone Priority (HTP) is simply a feature developed by Canon which aims to capture more of the detail in the lightest areas of an image whilst avoiding 'blown' highlights.
Disable the highlight tone priority to allow for manual control of your images settings.
9. Auto lighting optimizer
Turn the auto lighting optimizer off, this is also due to manual control of your camera settings.
10. Focus.
To achieve a clearer focus, use digital zoom to punch into your image and ensure your primary object is insharp focus.
After that, you can zoom out to enable you shoot your footages.
11. White balance.
Always adjust your white balance settings to match your lighting conditions.
For example, when you are shooting outside.
In essence, always use the kelvin that matches the light you are using to shoot both interior and night scenes.
Conclusion.
It is worth noting that there is no fixed video settings in a canon 60D that will enable you to shoot the best video quality footages that you need for your project, and for that reason you should always learn to experiment with different settings to see what works best for you.
As the saying goes, one man's meat is another man's poison, the settings that works best for me might not really go well with you.
The greatest challenge we also have in video production is the client.
There are clients who will bring a video sample and ask you to make something similar for them. In such cases you need to be conversant with camera settings to ensure that you give them something more better or near to their preferences.
Latest updates.